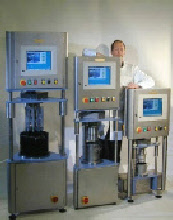 Viscometer 4
ConTec presents a type of viscometer which uses the same measurement system as the ConTec Viscometer-3 for mortar and pastes, The ConTec Viscometer 4. It is a coaxial cylinder viscometer with the outer cylinder rotating.

Viscometer-4 is a viscometer to measure the theological properties of mortars, cement based repair materials, grout and pastes.

The inner cylinder is the same as for the ConTec Viscometer. A three component unit which consists of a top-ring, bottom unit and upper unit.

The standard inner cylinder is the M-170 measuring system. The bottom unit of the inner cylinder, is fixed to prevent error due to three-dimensional shearing at the bottom. The upper unit measures the torque and the top-ring ensures the correct hight of the shearing zone.